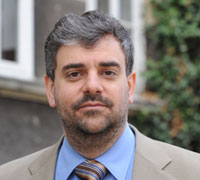 Research team at SOCIUM to examine the most pressing question in long-term care policy for the current parliamentary term.
Headed by Professor Heinz Rothgang of the SOCIUM Research Center on Inequality and Social Policy, a team of fourteen researchers at the University of Bremen have won a European-wide tender to develop and test a scientifically founded procedure for standardized personnel planning in long-term care institutions. Funding to the tune of 3.7 m. Euros has been awarded to examine the most pressing question relating to long-term care policy in the current parliamentary term.
Staffing Levels in Nursing Homes – an Ongoing Issue
One major criticism ever since long-term care insurance came into existence over 20 years ago is that nursing homes are inadequately staffed. Moreover, staffing levels vary considerably across Germany. In Bavaria, for example, the staff-to-patient ratio is 20 per cent higher than in Saxony-Anhalt. Several attempts to introduce a national standard for the allocation of personnel have been made, but without success so far.
The Second Act to Strengthen Long-Term Care (Zweites Pflegestärkungsgesetz) requires parties to the collective self- administration of the long-term care contracts develop a scientifically proven procedure for standardizing staffing levels in long-term care institutions according to qualitative and quantitative criteria by 30th June 2020 at the latest. The procedure must then be tested by independent scientific institutions.
New, Practicable Definition of Long-Term Care is Needed
Prompted by the major reform in long-term care brought in during the last legislative period, the question of what constitutes an adequate staffing level has recently become even more significant. The intention of the redefinition of the term "in need of long-term care" is to maintain and encourage the independence of people in need of care. In coming years, it is essential that when this legislation is implemented, a different awareness of long-term care is generated, moving away from the previous notion of performing tasks – tasks in this context being essential everyday activities such as eating, drinking, shopping, cooking, cleaning etc.
Number and Level of Training of Long-Term Care Personnel are the Key Factor
The key factor for a new understanding of long-term care are the care staff themselves. The number of employees and their qualifications will in future be the main focus of political measures to improve and advance long-term care insurance. The new definition of the need for long-term care must be taken as an opportunity to review staffing levels and adapt them to meet changing needs. This is the objective of Heinz Rothgang and his team in the in the course of the project.
Contact:
Prof. Dr. Heinz Rothgang
SOCIUM Research Center on Inequality and Social Policy
Mary-Somerville-Straße 3
28359 Bremen
Phone: +49 421 218-58557
E-Mail:
rothgang@uni-bremen.de
Thomas Kalwitzki
SOCIUM Research Center on Inequality and Social Policy
Mary-Somerville-Straße 3
28359 Bremen
Phone: +49 421 218-58544
E-Mail:
thomas.kalwitzki@uni-bremen.de
Mathias Fünfstück