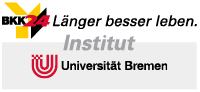 Topical Issues and Renowned Speakers Guarantee Gerd Glaeske and the BKK24 a Full Audience
How can we motivate people of different social backgrounds to change their life style, their fitness behavior and their eating habits in order to live a healthier, longer and more satisfying life? The Second Congress for "A Longer Better Life" offers an interesting program put together by Professor Gerd Glaeske of SOCIUM and the BKK24. The congress will commence on May 14th, 2019 at the Adademie des Sports in Hanover. Since it is still the social background which determines the life expectancy the congress aims at exploring the possibilities to improve the individual motivation. The topical question guaranteed that the congress was fully booked in short time.
The Congress for "A Longer Better Life" is part of the preventive work of the Institute for "A Longer Better Life" which organized by the SOCIUM together with the BKK24.
More information: Longer Better Living.-Institute
Contact:
Prof. Dr. Gerd Glaeske
SOCIUM Research Center on Inequality and Social Policy
Mary-Somerville-Straße 3
28359 Bremen
Phone: +49 421 218-58559
E-Mail:
gglaeske@uni-bremen.de