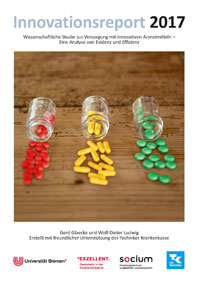 Health experts from SOCIUM Research Center on Inequality and Social Policy at the University of Bremen present the Innovation Report 2017 at the Federal Press Conference on 20 September in Berlin.
Professor Gerd Glaeske (SOCIUM Research Center on Equality and Social Policy) and Professor Wolf-Dieter Ludwig (Chairman of the Medical Committee of the German Medical Association), published the Innovationreport with the support of the Techniker Krankenkasse for the fifth time. The research report reviews drugs that have been prescribed in Germany since three years and have been reimbursed by the statutory health insurance (GKV). The results of assessments of 32 new drugs evaluated were mediocre - no single product receiving the overall "green traffic light".
In the Innovationsreport 2017, different aspects of the new medicines are analyzed according to their daily usage:
Is the medicine the only one to treat the disease concerned?

Is there more benefit and / or less risk to patients and how expensive is it?

Are there further references published that may change the assessments of the new drugs since the authorization of the respective agent?
These questions are answered by means of a traffic light system. There is a "red" traffic light for a critical assessment, a "yellow" for a more open classification and a "green" for a positive overall assessment.
Contact:
Prof. Dr. Gerd Glaeske (verstorben)