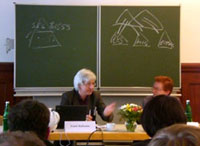 Advisory board of the ZeS confirms outstanding success record.
Publications which are internationally visible, networks which are developed in international research, successful presentations at international conferences and an impressive record of third-party funds - all this (according to the advisory board of the Center for Social Policy Research) make the ZeS into one of the central institutions of the science location in Bremen. This successful record is characterized by the collaboration with the Collaborative Research Center "Transformations of the State" (CRC 597) and with the Bremen International Graduate School of Social Sciences (BIGSSS). This is complemented by multiple activities of the science transfer into the practice concerning social political affairs. Also the advancement of junior academics is positively accentuated.

From 29th to 30th May 2008 the ZeS was evaluated by the advisory board of the Center for Social Policy Research, a committee which is comprised of representatives of research and practical experts in social policy. It was its sixth evaluation in intervals of three years.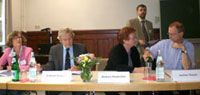 The evaluation was geared towards the ZeS as a "whole" as well as the work of the departments in particular. The department "Health Economics, Health Policy and Outcome Research" stands for special achievements in research as regards transfer. The projects on the topics "legitimation" and "organization" as well as theories on social democracy in social policy are the key features which characterize the work of the department "Theory and Constitution of the Welfare State". The choice of case studies and its focus, activation and professionalization is emphasized in the department "Gender Policy in the Welfare State". The department "Institutions and History of the Welfare State" shows the stringency and continuity of 20 years of research at the Zes.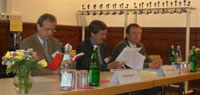 As regards the comparatively low basic facilities of the ZeS, a critical tone is adopted. The advisory board demands a sustainable improvement of infrastructural facilities. Due to an increasing work-load of teaching and researching, while, at the same time, being committed to the development of new study courses, new opportunities of compensation should be created. For example, support in teaching, which could be done by substitutes as well as an improvement of the basic facilities.
The advisory board emphasized in a positive way that the departments of health and "Institutions and History of the Welfare State" were successful in finding a successor for the head of the department. However, the successor for the department of the economics department has yet to be found. (successor Winfried Schmähl).
The committee is comprised of representatives of research and practical experts in social policy:
Prof. Dr. Jochen Clasen (University of Edinburgh)
Prof. Dr. Eckhard Knappe (Trier University)
Dr. Arnold Knigge (former council of state, Bremen)
Prof. Dr. Barbara Riedmüller (Freie Universität Berlin)
Prof. Dr. Franz Ruland (Verband Deutscher Rentenversicherungsträger e.V.) (the pension insurance association)
Prof. Dr. Jürgen Wasem (Universität Duisburg-Essen)
Prof. Dr. Annette Zimmer (University of Münster)