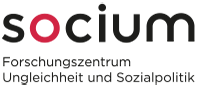 Research Commission of the Academic Senate sees all goals for the creation of the SOCIUM fulfilled.
The second item on the agenda of the Academic Senate on June 6th, 2018 entailed an important decision for the Social Sciences in Bremen: the continuation of the SOCIUM as a central research facility of the University. The SOCIUM had prepared a 400 page report of its work and achievements for the years 2015 to 2017. Based on this documentation the Research Commission of the Senate recommended without hesitation or reservations the extension of time frame for the research of the SOCIUM for another five years.
The Senate followed this recommendation unanimously. The question of the Rector whether the SOCIUM fulfilled all the goals envisioned at its creation was emphatically answered in the affirmative by the Chairman of the Research Commission. Hence, the institutional foundation of the SOCIUM is secured till the end of 2022.
As a central research facility of the university SOCIUM is an independent center under direct supervision of the Executive Board of the University. It coordinates all the social science research on inequality and social policy. It comprises of researchers from sociology, political science and health sciences. Around 100 mostly junior researchers work in approximately three dozen research projects. The total sum of external research financing reached 3.7 Mio. euros in 2017. 9 of the 15 research projects of the new Collaborative Research Center 1342 Global Dynamics of Social Policy are headed by senior researchers from the SOCIUM. SOCIUM not only reflects the core of the excellent social science research in Bremen but also offers the institutional basis for the development of new research ideas.
Contact:
Prof. Dr. Frank Nullmeier
SOCIUM Research Center on Inequality and Social Policy
Mary-Somerville-Straße 7
28359 Bremen
Phone: +49 421 218-58576
E-Mail:
frank.nullmeier@uni-bremen.de