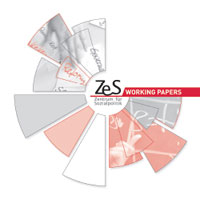 Hannah Zagel: Understanding Differences in Labour Market Attachment of Single Mothers in Great Britain and West Germany
This paper investigates the relationships between single mothers' demographic and socio-economic circumstances and differences in their labour market attachment in Great Britain and West Germany. Single mothers' employment is a key issue in current policy debates in both countries, as well as in research on the major challenges of contemporary welfare states. The heterogeneity of the group of women who experience single motherhood poses a challenge to social policy. To complicate the matter, single motherhood is not static but a result of family life dynamics.
This paper provides an empirical insight into differences in labour market attachment of single mothers, investigating the demographic and socio-economic factors that distinguish careers dominated by full-time, part-time or non-employment. Women in the British and German contexts are considered in order to explore potential differences between two welfare state settings. Data from the British Household Panel Survey (1991-2008) and the German Socio-Economic Panel (1991-2008) are used for regression analysis.
The findings suggest that, in both countries, entering single motherhood at a young age is associated with longer periods of non-employment; vocational qualifications go together with careers dominated by part-time employment; and single motherhood with school-age children allows for full-time employment careers, which are also facilitated by high education attainments. The analyses also suggest that, compared to German mothers, part-time employment is a less common track for British single mothers.
Download: ZeS Working Paper 03/2015