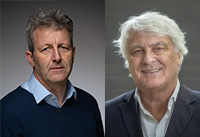 Pandemic as a complex system, control of the epidemic using indicator-sets, children and adolescents in the corona pandemic, politics and democracy under pandemic conditions
The 8th theses paper expands the tried and tested tripartite division of epidemiology, prevention and social policy by a preceding chapter, which proposes a conceptual understanding of the epidemic that differs from the common, biological-linear view. A total of four topics are dealt with:
The pandemic as a complex system,

Control through indicators and development of indicator sets,

Children and adolescents in the corona pandemic,

·

Politics and democracy under pandemic conditions.
Theses paper 8 tries to gain more perspective, primarily by proposing a concept for understanding the pandemic, secondly by proposing a set of indicators suitable for controlling, thirdly by further deepening the knowledge of the children and adolescents in the pandemic, and fourth, by attempting political interpretation to bid.
Summary:
The proposed concept is that the epidemic should be seen as a complex system. The individual persons represent the elements of the system, the infection as a form of interaction, the infection processes as a result of virus, host and environmental properties according to the rules of this interaction, that are indeed present in complex systems, but are not visible. Success-oriented handling of an epidemic requires knowledge of its essential characteristics (attractors, e.g. age dependency), the expansion of knowledge through iterative interventions (e.g. evaluation of school closings), and as the basis of all efforts, social self-confidence and openness to different approaches.

A concrete proposal for a multidimensional indicator set for control is presented, which, based on the draft of the German Hospital Society, focuses on age stratification and a reporting rate specified according to vaccination status, comorbidity, socio-economic factors and positivity rate along with test frequency. Outcome indicators such as hospitalization (also specified according to comorbidity and vaccination protection), intensive care and the need for ventilation are also used. However, a political line in the transition to multidimensional control systems is currently not discernible.

During the pandemic, children and adolescents made a significant contribution to society and, in doing so, accepted serious disadvantages themselves. In all measures that will apply in the future, your best interests must be given priority.

Instead of linearity and subordination, autonomy, ambiguity or VUCA (variability, uncertainty, complexity, ambiguity) are the words that have to be implemented in politics today.
Contact:
Prof. Dr. Gerd Glaeske (verstorben)
Prof. Dr. Philip Manow
SOCIUM Research Center on Inequality and Social Policy
Mary-Somerville-Straße 7
28359 Bremen
Phone: +49 421 218-58580
E-Mail:
manow@uni-bremen.de