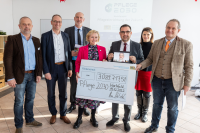 Prof. Rothgang and Team at SOCIUM are Partners in Flagship Project "Long-Term Care 2030"
The kick-off event at Karlsfeld on 19th December 2022 marked the beginning of a pilot project on long-term care for tomorrow, a joint initiative of SOCIUM and the Fraunhofer Institute for Integrated Circuits (Fraunhofer IIS) together with the Korian Foundation for Long-Term Care and Aging with Dignity (Korian Stiftung für Pflege und würdevolles Altern) as well as Korian Deutschland GmbH.
The pilot project has been awarded a budget of approx. 7m euros, of which half is provided by the Bavarian State Ministry for Health and Long-Term Care. Korian Deutschland is funding not only the cost of building and reconstruction work to the tune of 2.5m euros, but is also giving a further 1m euros over a period of 3 years to increase staffing levels. With this funding it will be possible to implement and test a scientific method for the standardized calculation of staffing requirements in long-term care, developed in a major project conducted by the University of Bremen from 2017-2020, commissioned by the self-governing body of long-term care insurance providers.
The present project was inaugurated by Klaus Holetschek, Bavarian State Minister for Health and Long-Term Care. In his speech, he declared: "Improving long-term care is a key issue for the future. We need to ensure that people in need of care are treated with dignity, but also that working conditions for care workers are improved. We must set the course now to provide comprehensive, humanitarian long-term care for tomorrow. The Bavarian State Ministry for Health and Long-Term Care considers the Project 'Long-Term Care 2030' forward-looking, and it is hoped that it will bring us sustainable insights for the long-term improvement of residential care in and beyond Bavaria."
Elisabeth Scharfenberg, Chair of the Korian Foundation, added: "We, the Korian Foundation, are delighted over the inauguration of the project 'Long-Term Care 2030' at the Korian nursing home in Karlsfeld. With scientific support, we shall over the next three years be implementing a modernized concept that will effectively facilitate the daily work of care workers, support them in their routines and hence also benefit those in need of care."
For the 3-year duration of the project, quantitatively and qualitatively needs-based and digitalized long-term care will be implemented and tested in realtime at the nursing home in Karlsfeld. With a significantly higher proportion of care assistants in the staff mix, the modernization of the nursing home using digital care technology (such as sensors, AI, service robots or data-based process management) and an innovative staffing schedule will be tested and evaluated. "In this way, needs-based and skills-oriented, digitally supported processes can be developed in the daily routine to enhance both the life quality of the nursing home residents and work satisfaction among qualified carers", emphasized Professor Heinz Rothgang, University of Bremen.
"The development, implementation and integration of new processes and 'smart' technologies to ease the workload for care workers present considerable challenges both for the developers and the users", stated Dr. Thomas Wittenberg from the Fraunhofer Institute. In order to identify and evaluate the appropriate technologies (such as intelligent beds, data glasses, voice recognition or robotic systems for reducing workloads in long-term care), researchers of the Fraunhofer Institute in Erlangen will contribute to the project with their expertise. In close cooperation with the careworkers, they aim to develop new procedures for recognizing, analysing and interpreting stress points in care processes by means of wearable sensors, and put solution approaches into practice.
In view of the urgent need for reform in residential long-term care, the nursing home at Karlsfeld should serve as a best-practice model for skill-based care in a digitalized home, and deliver valuable, transferable findings not just for Bavaria, but also for the whole of Germany. "The interplay and the triad of additional staff, building infrastructure and the application of technology make 'Long-Term Care 2030' a holistic, future-oriented project. If we want to make long-term care sustainable and viable for the future, we must not think in inflexible categories," said Dr. Marc-Alexander Burmeister, CEO of Korian Deutschland GmbH. The objective is rather to evaluate the whole project holistically in terms of quality of care, and to tailor modular guidelines that other nursing homes can use as implementation blueprints.
Contact:
Prof. Dr. Heinz Rothgang
SOCIUM Research Center on Inequality and Social Policy
Mary-Somerville-Straße 3
28359 Bremen
Phone: +49 421 218-58557
E-Mail:
rothgang@uni-bremen.de