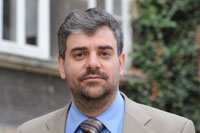 Funded by the State of Bremen until 31.12.2025
This is a consortium project involving the High-Profile Area of Health Sciences of the University of Bremen, the City University of Applied Sciences, Bremen, and the Apollon University of Applied Sciences in Bremen, which entails the appointment of six doctoral students who will be supervised by professors from all three universities. SOCIUM will be represented by Professor Dr. Heinz Rothgang.
The overarching objective of this cluster is to make a local contribution to the implementation of the WHO's objectives of the "Healthy Cities" conceptual framework in Europe. This conceptual framework embraces an international vision of good governance, the reduction of health inequalities and the integration of health, or health promotion measures, in all sectors of society. One key aspect of this is the establishment of interdepartmental cooperation within the local authorities to incorporate health promotion into urban development. An equally important aspect is the creation of an efficient system of healthcare provision in which different health occupations are integrated and work together on an equal footing.
For the duration of the funding period the research cluster will investigate and assess Bremen's health profile, thereby taking into account Bremen's particular characteristics and strengths relating to Health Sciences; participate and collaborate in drawing up proposals; and, finally, present a concept for the sustainable promotion and implementation of integrated healthcare structures in Bremen. The practical work is divided up into six doctoral positions, awarded in April 2022.
The coordination of the research cluster and the integration of results from all the projects will be carried out by a postdoctoral member of the project team. A concept will also be developed for integrated, small-scale monitoring that combines the areas of health, social and environmental policy, and tested using data from Bremen for decision-making support in cross-sector cooperation for sustainable, climate-friendly and healthy urban development.
Contact:
Prof. Dr. Heinz Rothgang
SOCIUM Research Center on Inequality and Social Policy
Mary-Somerville-Straße 3
28359 Bremen
Phone: +49 421 218-58557
E-Mail:
rothgang@uni-bremen.de