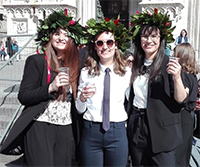 Four Students Defended Their Master Theses at the Università degli Studi di Milano
On March 26th, 2019 already the second cohort of the joint Master program of the University of Bremen together with the Università degli Studi di Milano successfully finished its studies. Chiara Bresan, Sinem Dogan, Verena Sattler and Laura Rappold defended their Master theses which dealt with issues of comparative European industrial relations as well as inequality in the labour markets. Following the defenses they were allowed to don, as a sign of their successes, the customary laurel wrath ("corona d'alloro").
Already since the Winter Semester of 2015/2016 the Università degli Studi in Milano, Italy and the University of Bremen cooperate in a university program that awards a double degree (both in Germany and Italy) as a "European Master in Labour Studies and Social Policy". Central contents of this program are industrial relations in international comparative perspective including trade unions, employers' associations and their political and social embedding. An additional focus of this two-year program with the first year at the University of Bremen and the second at the Università degli Studi is the comparative analysis of inequality and social policies. The deadline for applications for this international Master program is June 15th, 2019. Both universities accept such applications.
Contact:
Prof. Dr. Karin Gottschall
SOCIUM Research Center on Inequality and Social Policy
Mary-Somerville-Straße 5
28359 Bremen
Phone: +49 421 218-58595
E-Mail:
karin.gottschall@uni-bremen.de