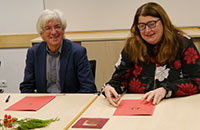 Minister of Social Affairs and SOCIUM intensify cooperation.
Shortly before Christmas, the Minister of Social Affairs, Youth, Women, Integration and Sport of the state of Bremen, Anja Stahmann, and the Speaker of SOCIUM, Frank Nullmeier, signed a cooperation agreement which establishes a new foundation for the cooperation of the state administration and the research center. The agreement entails not only regular meetings but also research projects directly intended to profit daily politics and administrative practice.
The cooperation agreement also entails the support of the teaching curriculum of the University of Bremen by offering internships in the administration, advanced training of administrative staff by the experts of the SOCIUM, cooperation on public events and consulting based on social scientific research on welfare state policies. A core aspect of the agreement features a mutual exchange of information on existing data sets. As far as on data protection grounds legally possible these data sets will be used in research projects on social policy and inequality studies in order to improve the evidence based policies and implementation approaches of social policies in the state of Bremen.
The signing of the agreement commenced on December 19th, 2018 at the Ministry of Social Affairs of Bremen. In the small celebration participated the Minister, Anja Strahman, the State Secretary, Jan Fries, the Team of speakers of SOCIUM, Frank Nullmeier and Betina Hollstein as well as the director of the department on health, long-term care and pensions, Heinz Rothgang.
Contact:
Prof. Dr. Frank Nullmeier
SOCIUM Research Center on Inequality and Social Policy
Mary-Somerville-Straße 7
28359 Bremen
Phone: +49 421 218-58576
E-Mail:
frank.nullmeier@uni-bremen.de