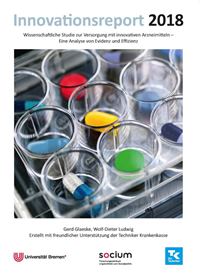 More green traffic lights than in recent years.
The Innovation Report has been published annually since 2013 by Professor Gerd Glaeske und Professor Wolf-Dieter Ludwig with the support of the Techniker Krankenkasse (TK). This report combines healthcare provision research with the evaluation of new medicines that were first offered three years ago and that have undergone an early assessment by AMNOG criteria. In this respect, the innovation report offers a kind of "late assessment" of the drugs from the year 2015. The increasing marketing of orphan drugs can also be seen in this year's Innovation Report, as well as the trend towards accelerated market entry of pharmaceuticals.
The Innovation Report 2018 critically evaluates the new drugs launched in 2015 into the pharmaceutical market for German health insurance. Many patients with serious diseases that have been only symptomatically treatable live in the hope of being cured by newly developed medicines. These include, for example, drug therapies for Alzheimer's dementia - which are dealt with in a separate chapter in this Report - but also new medicines for the treatment of malignant diseases. In particular, with regard to the former condition, information is regularly promulgated that raises hopes of a cure, but so far there has been no real therapeutic breakthrough with regard to finding a cure for Alzheimer's dementia.
Altogether, 32 of the 37 pharmaceutical products introduced in 2015 are included in the Innovation Report 2018. In the report, there are 7 positive and 10 negative evaluations (indicated by a green or red traffic light respectively). Numbering nearly 50 % of the products, the largest proportion is registered as having at least partial additional benefits, which is indicated by a yellow traffic light.
Orphan drugs, used to treat rare diseases which afflict no more than 5 persons per 10,000 according to the EU definition, account for a third of the new drugs. In addition, there is a clear lack of new antibiotics or drugs available in the market for treating most "other neurological diseases" and mental disorders.
Download Innovation Report 2018:
Long version (in German)
Short version (in German)

Download:
Statement for the press conference by Gerd Glaeske (in German)
Slides for the press conference by Gerd Glaeske (in German)
Contact:
Prof. Dr. Gerd Glaeske
SOCIUM Research Center on Inequality and Social Policy
Mary-Somerville-Straße 3
28359 Bremen
Phone: +49 421 218-58559
E-Mail:
gglaeske@uni-bremen.de