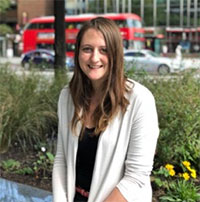 Lupieri is a PhD candidate at the University of Cambridge and will stay in Bremen for three months, collaborating with the SOCIUM and the CRC 1342 "Global Dynamics of Social Policy".
Thanks to the generous support of an Alexander von Humboldt Foundation grant, we are delighted to be hosting Sigrid Lupieri at the CRC and SOCIUM as a guest researcher for the period of 01 September to 30 November 2018. As a PhD candidate at the University of Cambridge, her research analyses the factors influencing the allocation of health care resources to older Syrian refugees in Jordan.
Ms. Lupieri's previous experience includes working at UNESCO and UNDP in New Delhi and New York, as well as several years as a journalist in Armenia, Georgia, Germany and the U.S. She holds master's degrees in journalism (Northwestern University) and modern European history (University of Cambridge), and a BA in foreign languages and literatures from the University of Udine, Italy. During her stay at our center, Ms. Lupieri will be working in close collaboration with the A04 project "Global developments in health care systems and long-term care services".
Contact:
Dr. Lorraine Frisina Doetter
SOCIUM Research Center on Inequality and Social Policy
Mary-Somerville-Straße 3
28359 Bremen
Phone: +49 421 218-58561
E-Mail:
frisina@uni-bremen.de