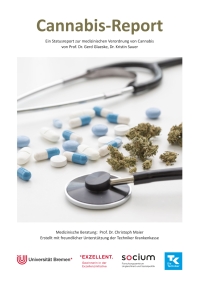 First Study on new Cannabis Medicines and their use presented in Berlin on May 17th, 2018.
Since March 2017, the prescription of cannabis at the expense of statutory health funds has been possible, although studies on the efficacy and safety of cannabis medicines are fragmentary. The Cannabis Report was drawn up by the University of Bremen, with the support of the TK, in order to be better able to assess cannabis as a therapy option for various diseases. Preliminary representative data on prescribed cannabis shed light on actual outcomes and contribute towards an objective debate over this new medicine.
In principle, cannabis treatment is assessed as positive, although in comparison to most proven therapies it is not a good alternative. In isolated cases, however, cannabis medicine does help patients.
This is one of the outcomes of the Cannabis Report presented on 17th May 2018 in Berlin.
Further information:
Gerd Glaeske/Kristin Sauer, Cannabis Report, 2018
Presentation at the Press Conference Cannabis Report, May 17, 2018, Berlin
Contact:
Prof. Dr. Gerd Glaeske
SOCIUM Research Center on Inequality and Social Policy
Mary-Somerville-Straße 3
28359 Bremen
Phone: +49 421 218-58559
E-Mail:
gglaeske@uni-bremen.de