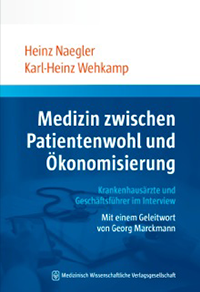 A unique qualitative study on the tensions between economization and patient welfare, with recommendations for more transparency in hospitals.
Hospital Medical Practice - Weighing Up between Medical Reasoning and Economic Factors
Are patients and their wellbeing really the focus of interest when they are admitted to hospital, treated and discharged? Can the observable steady rise in cases and the growing complexity of diseases exclusively be attributed to medical needs? Or are these developments an expression of an "economisation" process, which increasingly commingles medical indications with economic interests? What impact do the financing concepts of the health system have on the substance, character and quality of medicine and hospital treatment?
In a qualitative study, the authors of this publication – one of them a doctor, the other an economist – interviewed hospital doctors and hospital managers throughout Germany on the extent to which medical decisions are influenced by interests other than patients'. Their findings testify to the dilemmas confronting hospital managers and doctors when compelled to generate profits so as to secure the economic livelihood of their hospitals. Patient welfare is no longer the main focus of medical and management decisions in hospitals; admissions increase, indications and treatment procedures are drawn out.
These findings not only give cause for concern for the patients. Hospitals also lose their attractiveness as a workplace, for doctors and nursing staff. The authors provide perspectives and recommendations for reversing this development. Hospitals should not be forced to let profit maximisation guide their decision-making, and the welfare of the patients should again become the exclusive criterion for medical decisions.
For further information (in German):
Medizinisch Wissenschafliche Verlagsgesellschaft
Contact:
Prof. Dr. Karl-Heinz Wehkamp
SOCIUM Research Center on Inequality and Social Policy
Mary-Somerville-Straße 3
28359 Bremen
Phone: +49 160 90331191
E-Mail:
karl.wehkamp@uni-bremen.de