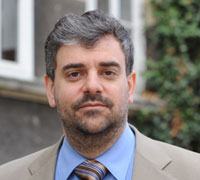 Results on the development of skill shortages in health professions in the Land of Bremen.
The report of the "Gesundheitsberufe Monitoring des Landes Bremen" (monitoring of health professions) and its main results were presented today at a press conference by Prof. Quante-Brandt, Senator for Science, Health and Consumer Protection and Prof. Rothgang, SOCIUM.

In the health professions, significantly more skilled workers will be needed in the coming years than are currently being trained. The report analyses the current employment situation and estimates future skill demands and shortages for the following health professions: nurses, paediatric nurses, geriatric nurses, (geriatric) nursing assistants, physiotherapists, speech therapists, occupational therapists and midwives.
Contact:
Prof. Dr. Heinz Rothgang
SOCIUM Research Center on Inequality and Social Policy
Mary-Somerville-Straße 3
28359 Bremen
Phone: +49 421 218-58557
E-Mail:
rothgang@uni-bremen.de
Dr. Kai Huter