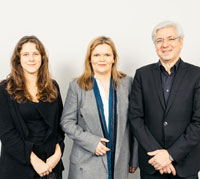 The German Research Foundation (DFG) has approved the continuation of the research group "Need-based justice and dIstribution procedures" (FOR 2104) for another three years.
The University of Bremen is represented by Prof. Frank Nullmeier und PD Dr. Tanja Pritzlaff-Scheele (both SOCIUM Research Center on Inequality and Social Policy) leading the subproject "Experimental studies on the stability of need-based justice in transnational contexts". For the next three years (April 2018 to March 2021) the project will be dedicated to experimental methods, questions on global justice, political ethics of migration and a fair development policy.
In total, the research group comprises eight subprojects, which are located at the Universities of Bremen, Hamburg, Oldenburg, Vienna (Austria), the Jacobs University Bremen, the Helmut-Schmidt-Universität Hamburg and the University of Applied Sciences Chur (Switzerland). The spokesperson of the research group is Prof. Stefan Traub (formerly University of Bremen, currently Helmut-Schmidt-Universität Hamburg). The subprojects of the research group will receive around 2.4 million Euros in total.
More information:
Website Research Group "Bedarfsgerechtigkeit und Verteilungsprozeduren" (FOR 2104)
Contact:
Prof. Dr. Frank Nullmeier
SOCIUM Research Center on Inequality and Social Policy
Mary-Somerville-Straße 7
28359 Bremen
Phone: +49 421 218-58576
E-Mail:
frank.nullmeier@uni-bremen.de