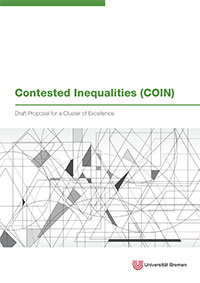 Draft Proposal for a Cluster of Excellence submitted.
In collaboration with social scientists from the InIIS, the Universities of Hamburg, Hanover, Oldenburg and Osnabrück and with Jacobs University, members of the SOCIUM have worked out a research program on "Contested Inequalities". Currently the draft proposal is being evaluated. In September 2017, the Committee of Experts will decide which initiatives will be invited to submit a full proposal.
Summary of the draft proposal:
In the 21st century, various inequalities - economic, political, ethnic, gender, age - drive the socio-political agendas of the OECD world. While these inequalities are not new, their increasing variety, cumulation, and interweavement have become a pressing and potentially dangerous issue. Inequalities shape the lives of people, and how they experience and react to them crucially affects the social cohesion and democratic legitimacy of OECD countries. The sustained or felt insecurity of large parts of the middle classes and the precarization of the lower classes are expressions of this dawning mega-problem of our times, as shown by recent populist shifts and authoritarian political "involutions" in many countries.
These troubling prospects make our Cluster of Excellence "Contested Inequalities (COIN)" ask: What follows for societal and political dynamics when the traditional dominance of economic inequalities is complemented by other kinds of inequality? More specifically, we want to know:
How do people cope individually with entangled inequalities in their conduct of life?
How do people respond collectively to perceived inequalities?
How do state authorities react to the increasing salience of inequalities?

Urgently necessary new and better answers call for a sophisticated understanding of the settings of multi-dimensional inequalities, the practices which individuals, collective actors, and states adopt as they react to inequalities, and the intended and unintended effects of these reactions. COIN focuses on the contested nature of inequalities and the circular dynamics of interrelated responses. While in the first funding period we concentrate on countries and country comparisons, in the second period we will shift towards the international embeddedness and consequences of contested inequalities - that is to the changing qualities of international relations between OECD societies and with the Global South.
COIN builds on the strengths of the Bremen social sciences in cooperative, theory-driven, and comparative empirical research on social stratification and social policy in the OECD world. It is based on a theoretical framework tailor-made for COIN's research programme with three closely linked Research Areas (Individual, Collective, and Policy Reactions) and a Data and Methods Centre. Bremen sociologists and political scientists will work together with pertinent colleagues from other, mostly nearby, universities, and national and international cooperation partners to provide the academic community and general public with illuminating results on contested inequalities as one of the grand challenges of our times and to establish a world-class research center dedicated to this issue.
Principal investigators (women) / Maßgeblich beteiligte Wissenschaftlerinnen:
Barlösius, Eva - University of Hannover
Drobnič, Sonja - University of Bremen
Gottschall, Karin - University of Bremen
Hollstein, Betina - University of Bremen
Hornidge, Anna-Katharina - Bremen / ZMT, University of Bremen
Lippke, Sonia - Bremen / Jacobs University
Martens, Kerstin - University of Bremen
Schmidt, Susanne K. - University of Bremen
Schmitt, Carina - University of Bremen
Teney, Céline - University of Bremen
Principal investigators (men) / Maßgeblich beteiligte Wissenschaftler:
Botzem, Sebastian - University of Bremen
Engel, Uwe - University of Bremen
Groh-Samberg, Olaf - University of Bremen
Haunss, Sebastian - University of Bremen
Manow, Philip - University of Bremen
Neckel, Sighard - University of Hamburg
Nonhoff, Martin - University of Bremen
Nullmeier, Frank - University of Bremen
Obinger, Herbert - University of Bremen
Rothgang, Heinz - University of Bremen
Schäfer, Armin - Osnabrück University
Schimank, Uwe - University of Bremen
Tepe, Markus - University of Oldenburg
Windzio, Michael - University of Bremen
Wonka, Arndt - University of Bremen
Contact:
Prof. Dr. Kerstin Martens
Institut für Interkulturelle und Internationale Studien - InIIS
Mary-Somerville-Straße 7
28359 Bremen
Phone: +49 421 218-67498
E-Mail: martensk@uni-bremen.de
Contact:
Prof. Dr. Uwe Schimank
SOCIUM Research Center on Inequality and Social Policy
Mary-Somerville-Straße 9
28359 Bremen
Phone: +49 421 218-58564
E-Mail:
uwe.schimank@uni-bremen.de