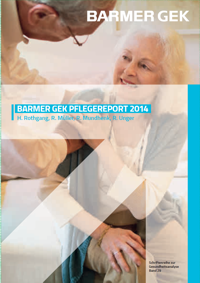 This year's report looks at the provision of dental treatment for people in need of care.
The focus of the 7th edition of the BARMER GEK Care Report is the provision of dental check-ups and treatment to people in need of long-term care (LTC). The report presents a broad overview of dental care provision for LTC receivers, describes the problems identified, outlines the most recent legislative changes in response to these problems and points to further potential for improvement.

The research team at the Centre for Social Policy Research (ZeS), including Professor Heinz Rothgang, Rolf Müller, Rebecca Mundhenk and Rainer Unger, also examines the provision of LTC in general and discusses major developments in LTC insurance. The primary database for the Report are data for all 2.6 m. people in need of long-term care collected by the Federal Statistical Office and claims data of all BARMER GEK insurees, who make up approx. 10 per cent of the population of Germany. The results will be presented today at the Federal Press Conference Building in Berlin.
Contact:
Prof. Dr. Heinz Rothgang
SOCIUM Research Center on Inequality and Social Policy
Mary-Somerville-Straße 3
28359 Bremen
Phone: +49 421 218-58557
E-Mail:
rothgang@uni-bremen.de
Dr. Rainer Unger
SOCIUM Research Center on Inequality and Social Policy
Mary-Somerville-Straße 3
28359 Bremen
Phone: +49 421 218-58553
E-Mail:
rainer.unger@uni-bremen.de
Dr. rer. pol. Rolf Müller
SOCIUM Research Center on Inequality and Social Policy
Mary-Somerville-Straße 3
28359 Bremen
Phone: +49 421 218-58554
E-Mail:
rmint@uni-bremen.de