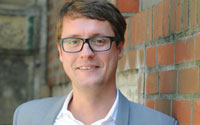 Christian Peters takes over parts of Gisela Hegemann-Mahltig's areas of responsibility who completed her active employment as ZeS director in September 2009.
Christian Peters, a political scientist, was previously employed at the ZEIT-Foundation Ebelin and Gerd Bucerius in Hamburg - first as volunteer, then as research fellow in the fields of governance and science/research.
Among others, he was responsible for the organization and execution of the Bucerius Summer School on Global Governance, for Alumni activities, as well as for consultancy and assessment in the foundation's funding area.
After several intermediate stops, in Heidelberg, San Francisco, Hamburg and Berlin, Peters' university education led him to a French and German speaking Graduate School in Dresden and Paris where he received his PhD in the field of comparative political cultural research in January 2008.
Source: ZeS report, Vol. 14, No. 2, December 2009, p. 24
Contact:
Dr. Christian Peters