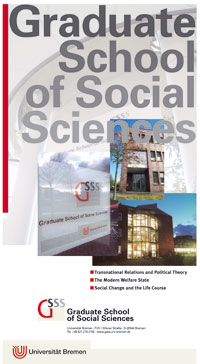 Through funding from the Volkswagen Foundation and the University of Bremen, the Graduate School of Social Sciences (GSSS) 2002/03 started its activities as the first social science graduate school in the Federal Republic of Germany.
The premise of a graduate school originated in the phased-out Collaborative Research Centre 186: "Status Passages and the Life Course" (Sonderforschungsbereich 186 "Statuspassagen und Risikolagen im Lebensverlauf"). The GSSS is a facility for research-oriented and structured doctoral training, partially based on the Anglo-American model of promoting young researchers. In addition to the Centre for Social Policy Research (ZeS), sponsors of the GSSS are the Institute for Intercultural and International Studies (InIIS) and the Institute for Empirical and Applied Sociology (EMPAS), both being political and social science research institutes in the Department of Social Science at the University of Bremen.
The three topic areas of the GSSS are:
international relations and political theory;
welfare state transformation;
life course, population dynamic, and social change.

The contents of the Centre for Social Policy Research are linked to the GSSS through the emphasis point of the modern welfare state. Researchers at the ZeS participate as supervisors on several doctoral projects and on the curriculum at the GSSS. Furthermore, doctoral students conversely participate in research projects at the ZeS as part of the curriculum at the GSSS. The ZeS moreover brings already growing cooperative relationships with international partners to the disposal of the GSSS. A special responsibility for the Centre for Social Policy Research is particularly shown by the fact that Karin Gottschall has directed the GSSS since 2003. The ZeS essentially contributes to further building a research-oriented profile as well as structurally reforming Social Sciences at the University of Bremen through the above mentioned promotion of young researchers.
Source: Comprehensive Report 2002 - 2004, Centre for Social Policy Research