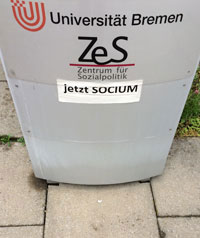 The new SOCIUM Research Center on Inequality and Social Policy.
The University of Bremen undertakes a unique step throughout Germany while bringing together the already existing expertise in social science on the topics inequality and social policy in a new research center: SOCIUM. The well-known social scientific research institutes, namely the ZeS (Centre for Social Policy Research) and the Institute for Empirical and Applied Sociology (EMPAS) have just merged for this reason.
All figures point towards an increase in national, regional and global inequality and this, even though around one third of the gross national product of developed countries is spent on the welfare state. This calls for a clarification to explain this development, but also some social scientific research on its social and political consequences. The public and politics will otherwise have to rely on well-known data, assumptions and speculations.
In view of an increasingly complex field, research projects can only be organized successfully through networks because inequality today is not only a national problem or a problem of development policy. It is rather a complex question of poverty and unequal pay, financial markets, European and international organizations, of global civil societies as well as of employment-, tax-, developments-, structure-, and trade policy. The SOCIUM offers this necessary content-related and organizational basis.
Contact:
Prof. Dr. Michael Windzio
SOCIUM Research Center on Inequality and Social Policy
Mary-Somerville-Straße 9
28359 Bremen
Phone: +49 421 218-58629
E-Mail:
mwindzio@uni-bremen.de