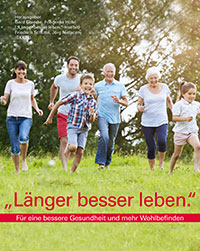 Prevention recommendations implemented in everyday life.
The EPIC study, a long-term 13-year study of 20,000 participants in Norfolk, which showed the positive effects of four different health behaviors, forms the basis of this publication. Sufficient exercise, abstinence from smoking, five servings of vegetables and fruit per day, and limited alcohol consumption resulted in a life-time gain of up to 14 years. In order to facilitate the implementation of these rules in everyday life instructions, tips and evidence-based expert advice have been compiled here (in German).
Prof. Dr. Gerd Glaeske and Friederike Höfel from the "Longer better living."-Institute, which is dedicated to the implementation of these prevention goals, published this book together with Friedrich Schütte and Jörg Nielaczny of the BKK24.
More information about publication: Glaeske, Gerd; Höfel, Friederike; Schütte, Friedrich; Nielaczny, Jörg (Ed.), 2019: "Länger besser leben." Für eine bessere Gesundheit und mehr Wohlbefinden, "Länger besser leben."-Institut, BKK24, Bremen, Obernkirchen: Selbstverlag
Contact:
Prof. Dr. Gerd Glaeske
SOCIUM Research Center on Inequality and Social Policy
Mary-Somerville-Straße 3
28359 Bremen
Phone: +49 421 218-58559
E-Mail:
gglaeske@uni-bremen.de
Dipl.-Soz. Friederike Höfel
SOCIUM Research Center on Inequality and Social Policy
Mary-Somerville-Straße 3
28359 Bremen
Phone: +49 421 218-58520
E-Mail:
fhoefel@uni-bremen.de