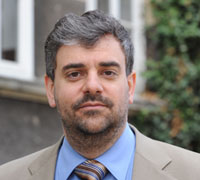 Main study for the evaluation of mortality of the German Mammography Screening Program in collaboration with SOCIUM now underway.
For an early detection of breast cancer, more than 2,850,000 women aged 50-69 years participate in the German Mammography Screening Program (MSP) annually. Commissioned by the Federal Office for Radiation Protection (BfS), this study investigates whether and to what extent the German MSP contributes to a reduction of breast cancer mortality. Following the successful completion of the feasibility study (July 2012 to September 2016), the first stage of the main study commenced in January 2018 with the aim of establishing a database for the evaluation of the German MSP. In the second stage of the main study, this database will be used to carry out an evaluation of breast cancer mortality.
Headed by Heinz Rothgang and Jonas Czwikla, the research team at SOCIUM contributes to the development of the aforementioned database using Statutory Health Insurance claims data from the BARMER Statutory Health Insurance fund.
The main study is carried out under the direction of the University of Muenster. Further project partners are the Leibniz Institute for Prevention Research and Epidemiology - BIPS, the Cancer Registry of North Rhine-Westphalia and the Working Group of German Tumor Centers.
Funding is provided by the Federal Ministry for the Environment, Nature Conservation, Building and Nuclear Safety (BMUB), the Federal Ministry of Health (BMG) and the Sponsors of the Mammography Cooperative (KoopG). The total funding volume of the SOCIUM amounts to €350,970.
More information about main study and feasibility study.
Contact:
Prof. Dr. Heinz Rothgang
SOCIUM Research Center on Inequality and Social Policy
Mary-Somerville-Straße 3
28359 Bremen
Phone: +49 421 218-58557
E-Mail:
rothgang@uni-bremen.de
Jonas Czwikla
SOCIUM Research Center on Inequality and Social Policy
Mary-Somerville-Straße 3
28359 Bremen
Phone: +49 421 218-58633
E-Mail:
czwikla@uni-bremen.de