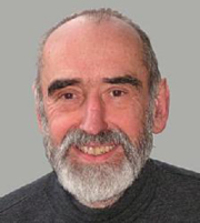 SOCIUM mourns Rainer Müller, founding member of the Center for Social Policy and its longtime director
Rainer Müller was both a physician and a sociologist. This explains the breadth of his research interests as well as his unusual willingness as a Professor of Ergonomics and Occupational Medicine to participate in the organization of an interdisciplinary social science research center.
After having studied medicine and received his MD at the University of Münster he studied sociology at the FU Berlin. He became assistant physician in Hagen and Berlin and senior physician at the RWTH Aachen. In 1976 the only recently founded University of Bremen offered him a professorship for occupational medicine. Rainer Müller realized the chances offered to him by this still to be created university. He was one of the first researchers to use health insurance data not only for research in occupational medicine but also in social and health policy. He also initiated the development of Public Health as a new research as well as teaching area here in Bremen. His research interests were wide ranging: from occupational medicine to health policy, the position of the health insurers on occupational rehabilitation, the professionalization of company physicians to the social inequality concerning health and mortality.
This did not only fit well into the research program of the first Bremen Collaborative Research Center 186 "Status Passages and Risks in the Life Course" in 1988 in which he headed one of the research projects. It fitted also well into the concept of a funding application with the VolkswagenStiftung to support the creation of an interdisciplinary Center for Social Policy at the University of Bremen which opened its doors in 1988 and in which he organized and directed the department of health policy, occupational and social medicine. Between 1994 and 2006 he also served as the director of the Center.
Between 1984 and 2009 he additional worked as a company physician in Bremen and between 1989 and 2013 as a lecturer at the Linzer Akademie für Arbeitsmedizin und Sicherheitstechnik. Even after his retirement he nationally and internationally campaigned for an increased consideration of Public and Global Health both in science as well as practice.
We will miss Rainer Müller not only as one of our especially engaging founding members who initiated new research venues. We also lost a caring colleague who knew how to motivate young researchers while at the same time offered them generous room of manoeuver to find their own ways. And we lost a colleague who never forgot that science also has to deliver tangible results for society. The gap left behind by him is large.
Contact: